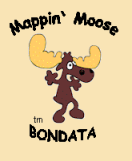 BonData: Over 25 Years of Service
BonData is a geodemographic consulting firm specializing in Census Tract and Census related databases (TIGER Line), custom maps, ring/market study maps, customer/sales maps and thematic maps, geocoding, GIS (Geographic Information System) based applications such as software (ATLAS GIS, ArcView, SAM, Doctor Dolittle), file conversions, digitizing, redistricting, estimates, demographics, and training.
Let BonData make custom maps for your needs. Using GIS software, we create census tract maps with street level detail using the Census Bureau's TIGER Line files. We also produce custom thematic maps, for instance we have used low/moderate income as a thematic variable. In addition to the census and thematic maps, we are also proficient in generating ring and market study maps and customer and sales territory maps.
BonData has developed a broad customer base since its emergence in 1989: libraries, hospitals, newspapers, banks, grocery stores, restaurants, nursing homes, doctors, universities, government (local, regional, state and federal), small, medium and large businesses of every type, and people and businesses trying to locate or expand in Pennsylvania.
BonData also offers services regarding geocoding, data base set-up, data conversions, consulting and spatial databases, in the form of street files, census and custom boundaries, TIGER Landmarks, data conversions and much more.
Among BonData's standard products are the County BonData Books, and the "Pennsylvania Municipality Wall Map". Thousands of County BonData Books have been sold since 1989.
Copies of these books can be found in most libraries across America. Other publications such as our Census SF3 reports on General Population, Housing, Income and Poverty, Age and Income, Employment, Education, Transportation are available in both paper copy or the Enitre US in .PDF format on CD-Rom. Along with these, our past Census Population and Housing Report, Income Reports, Senior Summary and our Census Estimate Report series have been very popular and even picked up by a national re-seller, Congressional Information Service, Inc.
BonData also produces a standard one page demographic profile for geographic areas from the United States to as small as Census Block Groups.